Nick Rosen and Miles Bonny
I had the pleasure of meeting singer Miles Bonny through Anthony Valadez, I immediately connected with him as a person and artist. We ended up doing a impromptu concert with him on vocals and trumpet and me on cello the day we met for some of the KCRW in Anthony's living room. Miles then stayed at my place the next day and we worked on some new songs and listened to vinyl/talked about life...
Some stuff I've played on
I did a lot of recording last year for various projects, most of the material is slated for release later this year. Here are a few of my favorites of stuff that came out last year: Matt White-Peter Pan (electric bass) http://www.youtube.com/watch?v=1-sY2Oe7IYQ Anthony Valadez-Looking Backwards (upright bass/keys/guitar) http://www.youtube.com/watch?v=EM8FrCM_pGI Kris Allen-Fighters...
Roots
I have been blessed to have worked with some really amazing artists and people in my youth and to have been mentored by so many of them. One of the experiences that shaped me most was getting to be a member (the 2nd white member ever) of the Pan Afrikan Peoples Arkesrta. The Ark had been founded by Horace Tapscott in Watts in the 1960s to promote community and the music of African-American...
musical inspirations
As 2013 starts I am thinking about how lucky I am to have had so many amazing musical mentors throughout my life to help raise me as a artist and a person. One person that forever changed my life was the incredible Henry Grimes. I met Henry in 2002 and was lucky enough to be a part of his comeback to the musical community after a 35 year absence. I studied with Henry for a little over a year, he...
2012 Recap
2012 was a truly incredible year, looking back at all the amazing moments from the past year here are a few of my favorites: Musical director/arranger/upright bass for LP grammy foundation performance: http://www.youtube.com/watch?v=hfrldVSgx1Q I've had the pleasure of doing a ton of work with LP over the past few years and this was a really special show that we did back in Feb,...
Update
Been awhile since updating this blog, Ive been pretty busy with tons of sessions MDing a few new artists and still doing tons at the Sayers club and with Jason Scoppa. I have been doing tons of fun studio work lately with some really great artists and writers, one of my favorites being Liz Rodrigues (http://www.youtube.com/watch?v=AplMICLMdr4), so many new tracks that I can't wait to release...
Some fun sessions
I have been very lucky to have been able to work in the studio with some great artists over the past few months and I am so excited to have all this new music be released into the world soon. One of my favorite singers I have worked with is Eliza Doolittle. Eliza is based in the UK and has a incredible voice and brings really fun lyric ideas to the table. We did one song together for her upcoming...
My own gig!!
I am so excited to be playing a gig of all my own music this Sunday at the Byrd Series at Le Petit Ermitage Hotel in West Hollywood. I will be playing music from my first album "Into the Sky" and my recently released second album "Violet" as well as a few new tunes (both albums are available and can hear samples at www.porterrecords.com). The evening will feature some special guests and I can't...
LP "halo" cover/Feist
Just saw that you can now download a really cool version of "Halo" that I did with LP live at East West studios last November. I really love the way we do this tune and I think it showcases how amazing LP is and how great the band is sounding.  download it here: http://emailunlock.com/whoislp/lp-halo Also, just found out that my set time with Feist it 8:45pm on Sat so if you are...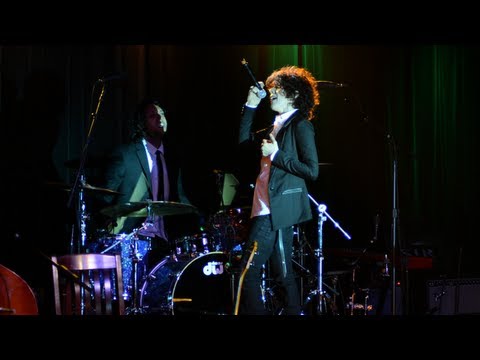 Having fun in the studio →
I have been writing so much great stuff lately with so many amazing people. Yonatan and I were able to have a few days with Harrison Kipner, a really amazing singer/songwriter who comes from a family of legendary writers. We came up with a great tune called "Parallel Universe" and this is a video of us making this tune. I can't wait to write more with Harrison this month. Thanks...
LP on iTunes/Cool videos
Today you can get the live version of the first single from LP on iTunes: http://itunes.apple.com/us/album/into-the-wild-live-single/id505556092 This is part of a whole live show/recording that we did at East West studios. The whole EP will be out shortly and I couldn't be happier about how it sounds. For this album I had the pleasure of being musical director and arranger and played basses...
SXSW/Coachella/New Album
Hey Everyone, I am so excited to be playing at two great festivals for my first time this year, SXSW and Coachella. I will be doing a bunch of showcases at SXSW with LP and band, these shows will be our first time playing out of california and I am really excited to see how the crowd responds. We will also be doing a lot of acoustic shows where I will be playing cello and acoustic bass, I am...
My new artist site on Porter Records!! →
I'm so excited to be releasing my second full-length album entitled "Violet" on Porter Records on Marc 20th. Check out the site to hear some samples from the album and to get some more information on the project and other great releases from this amazing label that is behind so much creative music right now.
Free LP download →
I am very happy to be musical director/bassist for LP on Warner Bros records. We recently did a live DVD/recording at East West Studios in Hollywood that came out pretty amazing. It was a great show and the band really sounded great. You can  download one of the tracks from the show for free for a limited time from her website (just click on above link). I'm looking forward to doing a lot...
Happenings
Hey Everyone, I am so excited to have a official release date for my newest album Violet, which will be March 20th, 2012 on Porter records (www.porterrecords.com). I am so excited about this album and I will also be releasing some very cool remixes of some of the tracks around the release of the album. I also have had a amazing year being musical director at the Sayers Club and I am very excited...
Update
 A ton of stuff has been happening over the last month and I am gearing up for a very busy November and December. I have been doing a ton of fun nights at the Sayers club with everyone you could imagine (even the purple one has come by) and the consistency of the venue, the crowd, and the level of musicianship is pretty amazing. I am also continuing my Weds jazz night at the Redbury and my Friday...
update
Hey Everyone, So the last month has been pretty busy. I have been working on a ton of different nights for Jason Scoppa that have been going really well and have involved some of my musical heroes. The club is starting to really make a stamp of the city and I feel so blessed to be a part of it. I also am musical director for LP (www.iamlp.com) who recently signed with Warner Bros records. I am so...
Update
A ton of stuff has been happening over the past month and I thought I would just give a brief recap. One of the most exciting things that I did was turn in my second album to Porter Records. It will be called "Violet" and will be released in March 2012. I am so proud of this record and am extremely happy with how it came out and with the flow of tracks. It was a incredible journey...
New Jazz Residency and New Album!!!
Hey Everyone, I am writing because I am so excited to be starting a new residency this week at the beautiful Redbury Hotel on Vine St. in Hollywood (theredbury.com). This night will take place every Wednesday starting this week August 3rd. The night will go from 8:30-11:30pm and will be in the beautiful new outdoor/indoor patio area of the hotel called the library on the 2nd floor.This is a really...
recent stuff
So I have been pretty busy over the past few months finishing my next record (mixing it now!!) and working as a musical director and producer/writer for a ton of different artists. The tracking for my next record is done and I am so happy with how it came out and I feel so blessed to have had so many great artists involved with the project. The album is a very intimate album that feels very...
Upcoming
Hey Everyone, So things have been super busy lately and I thought I'd just take a minute to go over a few exciting things that I have coming up over the next few weeks and months. First up, tomorrow I will be celebrating my birthday by hosting a concert at Angel's with one of my best friends and musical collaborators Joey Dosik. Joey and I having been working very hard to finish a duo...
New gig
I am very excited that my good friend L.P. has asked me to be her musical director for a upcoming showcase and some gigs in the next few months. L.P. is a truly incredible person and has one of the most amazing voices around. I have had the pleasure of working with her a bunch with the Bardot Sessions and it is always fun to see what she would do with all the covers that we did. She is now signed...
Update
Hey Everyone, life has been really busy the past few months and I have a ton of exciting stuff coming up in the next few. I have been writing a ton of music with a bunch of great artists and I am excited for some of the tunes and albums to start being released later this year. I spent a week in Las Vegas at the amazing new Cosmopolitan hotel with the great vocalist Jesse Palter. It was really fun...
9 tags
New Album
I have started compiling the music for my next album which will be released towards the end of this year on Porter Records. I am really excited for all the new music and even more excited to be working with so many great people. For this album I decided to ask a bunch of different people to produce various tracks with me and I also am going to be and have been writing and recording with lots of...
Upcoming Feb/March
So 2011 is already off to a great start. Been writing a lot of music and producing a few records of some great singers. In Feb. Ill be starting a new sunday residency at the Tar Pit, two sets starting at 9pm. This group will feature myself, Joey Dosik, Mike Green and Brett Farkas and we will be playing all originals and new arrangements of some classic tunes that we love. Mike, Joey and I used to...
My first DJ mix
I have recently started doing mixes and learning how to DJ in preparation for some solo shows I want to do this year and just to expand my ears more. I did a mellow mix for Paris DJs in France and you can download it for free here: http://www.parisdjs.com/index.php/post/Nick-Rosen-Joy-And-Hope-Mix I hope to do lots of mixes and DJ gigs this year and find all kinds new music to put in these...
looking back and forward
So 2010 was a amazing, I have been so humbled by the amount of support and love that I have gotten from so many people this year and I hope I can give way more back next year. This year I released my first album to a great response around the world, worked with a ton of great artists, wrote a lot of tunes and had tons of fun. Here are some fun videos from this year of some various gigs that...
Some music I've been into
Here are links to some of my favorite songs that I've been listening to this year and some of my favorite new artists that I've just found out about: Graph Gonzales: Thanks to Esthero for introducing me to Graph. Really fun original music that makes me wanna dance. soundcloud.com/graph-gonzales (check out Get it 2gether) Young and the Giant: The singer, Samir, sings with us a lot at...
Recap
Hey Everyone, So the last few months have been incredible. I have been so humbled by the amount of love my debut album "Into the Sky" has been receiving all over the world. My album was listed as one of the top ten albums of 2010 by KCRW DJs Anthony Valadez and Aaron Byrd.  It was also a huge hone that Gillies Peterson put my tune "Ancestral Echoes" on his latest...
Watch
Richie Kotzen singing Hall and Oates
Watch
LP sings the Kill
Watch
Trio with Sam Barsh and Gene Coye
Check out some beautiful pics by @bonesai http://bit.ly/9smgVH
David Bowie tribute!
I just heard this track that I produced and arranged on this David Bowie tribute album called "We were so turned on" on Manimal Vinyl records. The track was for Ariana Delawari and I produced it with Carlos Nino and I arranged all the strings and instruments. We did the track Ziggy Stardust and I am really excited about how it came out. It was really fun to take one of my favorite...
recap
Hey Everyone, So a ton has been happening over the last few weeks. I am really excited that some new music of mine will be released on Nov. 17th through Porter Records. It is a new tune of mine called "the Orchid Room" and it will also come with a special re-Edit of the tune by Carlos Nino and Jesse Peterson. I am really happy with how this song came out and I want to write a few more...
two upcoming releases!!
Hey Everyone, I have two new releases coming out next month. The first will be my new tune "the Orchid Room" available through Porter Records on Nov. 17th, 2010 (www.porterrecords.com). This is a tune I wrote that features Joey Dosik, Marcel Camargo and Dexter Story. It was recorded by Itai Shapira and mixed by Yonatan Elkayam and I am very excited about how it came out. It will also...
Had fun at bardot last night with @lprock @therealesthero @sum41 @macygrayslife @toddsplanet maiya, nick, joey and the amazing audience
RT @ArtDontSleep: LA, I love you!
Everyday I'm reminded how much I love what I do #grateful
Go to dublab.com to hear a live dj set I recorded at their studio
I had a really strange trip to joshua tree today
Ukele always makes a track more fun http://twitpic.com/2zffa2
Listening to timothy bloom, soooo good!!
One who has mastered himself is truly free. Freedom lies in the heart of the sage, servitude in the heart of the fool.-daisaku ikeda